Summer of Fun
A Child Friendly Cardiff production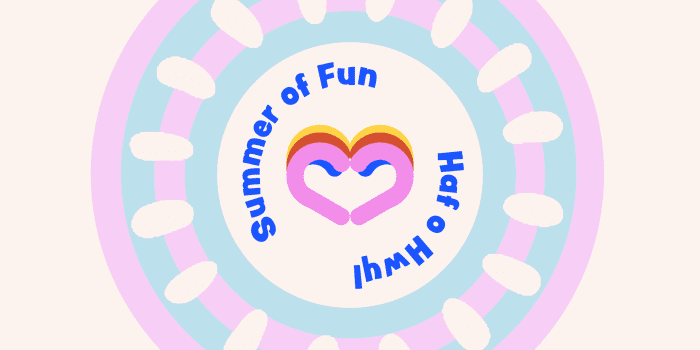 After the success of last year's Summer of Smiles and the Winter of Wellbeing, Child Friendly Cardiff are bringing the "Summer of Fun" festival to the children and young people of Cardiff across the summer holidays.
The Summer of Fun 2022 will support Cardiff's future generations with their social, emotional, mental and physical wellbeing over the summer and continue the essential work of the city's child friendly recovery, which began after the pandemic.
Summer of Fun Festival Line-up
Festival Site on City Hall Lawn
July 23rd to August 7th
Come and join us on City Hall Lawn for a Summer festival of fun-filled activities. Join in on various workshops, watch fantastic theatre, spectacular performances, contribute to the communal Art installation, play games, or simply dwell in the Sunshine. Child Friendly Cardiff are committed to re-engaging the children and young people of Cardiff with their City whilst putting smiles on their faces once more.  
Thursday morning sessions: Although our entire festival run is inclusive and neurodiverse friendly, please note that the first session of every Thursday will be quiet sessions that tailor specifically to neurodiverse children, young people and their families. Please be aware of this when making your booking.
Citywide Activities
July 23rd to September 5th
Child Friendly Cardiff wants to reach as many children and young people as possible and support to have fun and nurture their social, emotional, mental and physical wellbeing over the Summer Holidays. To connect with as many people as possible, we are supporting a large number of organisations to provide a wide range of activities in all areas of the city.
Take a look at the map below to see what organisations are taking part in your area! Below the map is a full list of opportunities and details on how to get involved.
Maximise the map to view activities by type
Arts and Culture Programme (Arts Active)
July 23rd to September 5th
Throughout July and August Arts Active are working with partners across the city to run a range of fun arts events and activities for children, young people and families.
Our showcase event will be the Out of Doors Live at the Summer of Fun festival on the City Hall Lawn where from 23 July – 7 August we will have a packed programme of  arts activities and entertainment. As well as this we will be heading out into community centres, youth centres and leisure centres across Cardiff to offer further fun arts activities for all ages.
Also look out for some of our regular summer events at St David's Hall – The Tiddly Prom for the under 5s and the Family Prom both offer families the chance to see wonderful live music with stories, characters and interaction to engage and enthral the audience.
We will be regularly updating the Arts Active Summer of Fun programme of activities on our website, so please keep checking www.artsactive.org.uk. Also we'll be posting more detailed information on these fun events via our social media.
Current performances available:
The Curious Case of Aberlliw – English performances
10.30am, 11.30am, 12.30pm, 1.30pm, 2.30pm & 3.30p on 24, 25 & 26 August
Trailer: https://youtu.be/9G2D_teoP6Y