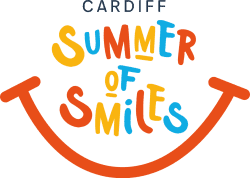 Children and young people's
summer festival
A Child Friendly Cardiff production
14th June – 29th August 2021
Summer of Smiles Festival line up
Churchill Way takeover, 14th June – August 29th
Child Friendly Cardiff are working with partners to take over Churchill Way filling it with natural playscape and art installations. First phase opens to the public on the 14th of June, development of the space will continue up to the summer holidays.
Festival Site, 20th July – 8th August
Pitched on the lawn of City Hall our Festival Site will be packed full of fun and exciting opportunities for children and young people of all ages. The site will host three sessions per day and run for the first three weeks of the summer holiday! Tickets go live on the 21st of June.
City-wide Activities, 17th July – 29th August
The smiles aren't limited to the city-centre! We're working with some amazing partners in all corners of the city. Our activity schedule will go live on the 5th of July.
Festival Site tickets go on sale
All other tickets will be available from the 5th of July.
Our thanks to you!
Cardiff would like to say thank you for all the effort and sacrifice given by children and young people across the city during the pandemic. The Summer of Smiles Festival aims to say thank you, help people to reconnect, have new experiences and make new friends.