Pupil Engagement Road Map
As set out in goal 2 of the Child Friendly Cardiff Strategy, 'every child and young person has their voice, needs and priorities heard'. To achieve this during the current challenging time Cardiff will provide four clear opportunities for children and young people to share their views and shape decisions during the Covid 19 pandemic and subsequent recovery phase.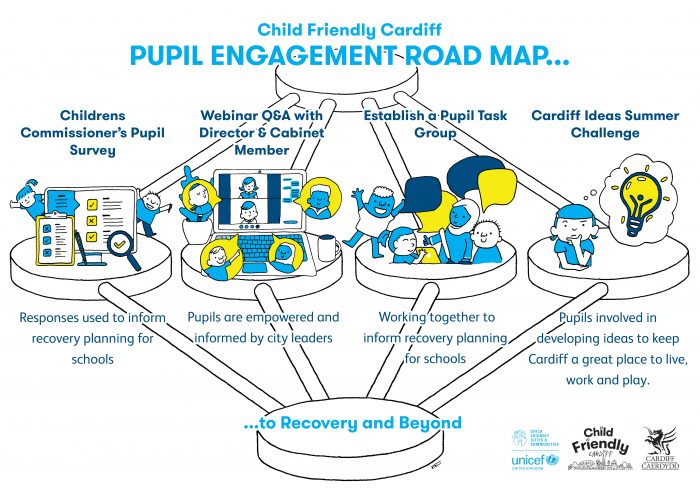 1. Children's Commissioners and Welsh Government Survey
Over 3,500 children from Cardiff responded to the survey, Cardiff will now be using the survey dataset to gain intelligence and inform recovery. Details to be made available to schools in July to shape plans and support pupils.
2. Pupil Q&A Webinar with Director and Cabinet member for education. 
During June, Child Friendly Cardiff hosted two Pupil Q&A Webinars with the Director and Cabinet Member for education. We wanted to empower children by giving them the opportunity to attend and pose questions to city leaders regarding the restart of schools. Recording of the webinars are available below:
3. Pupil Recovery Task Group 
Our Pupil Recovery Task Group will enable pupils to share their views on current experience of education and comment on plans. If you want to have your say send us an email using the contact sheet below!