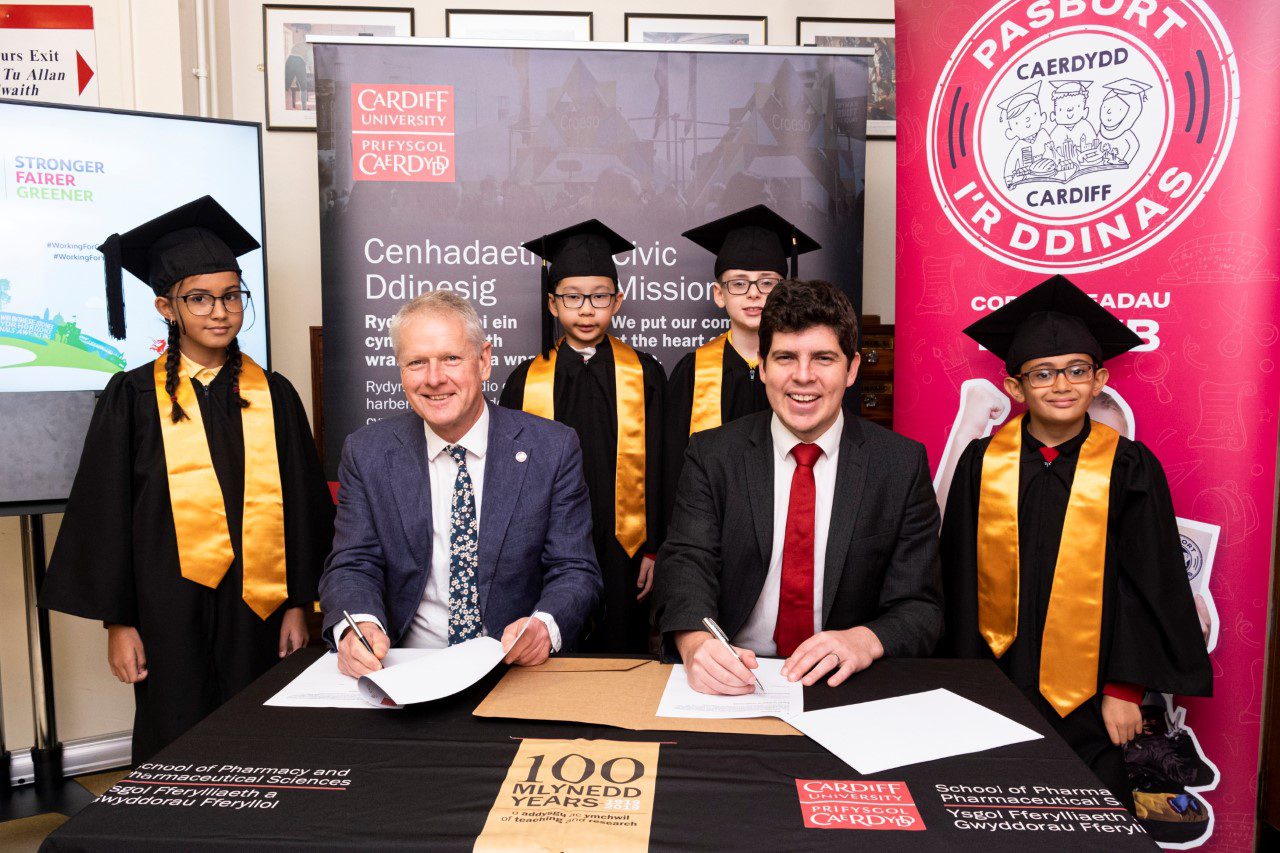 More children and young people will benefit from a wealth of educational opportunities following a formal agreement between Cardiff Council and Cardiff University to extend 'Passport to the City'– Cardiff Children's University.
'Passport to the City'– Cardiff Children's University, has been future proofed after Cardiff Council's Leader, Councillor Huw Thomas and the Vice Chancellor of Cardiff University, Professor Colin Riordan, joined together to sign a partnership agreement to support the ambition for young people in Cardiff as set out in the Council's Stronger, Fairer, Greener agenda.
The project aims to encourage and develop a love of learning by providing pupils with access to activities including art and music, science, technology, engineering and maths as well as cultural and graphics design courses, each contributing towards a 'Passport to Learning'. The scheme brings together a range of city-wide partners to invest in raising the aspirations of leaners, whilst developing pathways to make these aspirations a reality.
Following the success of its pilot, the Council has committed to scaling up the programme to ensure young people from all backgrounds can enjoy the world-class amenities Cardiff has to offer.
Leader of Cardiff Council, Councillor Huw Thomas said: "This is an exciting milestone in the delivery of 'Passport to the City 'and the agreement between the Council and Cardiff University cements our commitment to ensuring that children and young people growing up in Cardiff, can enjoy, experience and make the most of the great things this city has to offer.
"By optimising use of the city's resources and the fantastic opportunities available through partnership working, we are able to engage with children and young people through a wonderfully diverse range of learning and wellbeing provision, some of which they might not usually be able to access.
"I am delighted that schools have embraced the scheme wholeheartedly and have recognised the beneficial impact it has on learners and its success to date means that we are able to extend the scheme to more schools across the city.
"Making sure that Cardiff is a great place to grow up in remains high on our agenda and this programme actively contributes to Cardiff's ambition of becoming a globally recognised UNICEF UK Child Friendly City. Our 'Passport to the City' also aligns perfectly with the four purposes of the Curriculum for Wales 2022 and will afford children and young people even further opportunities to join up their acquisition of knowledge, experiences and skills within and beyond the classroom."
Vice Chancellor of Cardiff University Professor Colin Riordan said: "We recognise the important role Cardiff University has in supporting and inspiring young people to expand their learning and fulfil their true potential.
"The varied activities we will be providing as part of the Children's University programme, which includes in-person and virtual sessions, as well as new online learning resources, will allow many more children to gain a range of skills and experience, as well as exciting insights from some of our leading academics."
Speaking about the benefits to children, Nicki Prichard, headteacher at St Mary the Virgin Church in Wales Primary in Butetown said: "Around 100 of our Year 4 and 5 pupils took part. We had some amazing visits from Professor Paul Roche from Cardiff University who showed us telescopes, infrared cameras and gave our children a new understanding of space.
"Just as importantly, the Children's University sessions helped our children learn about creativity, teamwork and the importance of collaboration."
On World Children's Day in November 2018, Cardiff Council launched its Child Friendly Strategy, placing the rights and voices of children and young people at the heart of the city's policies, strategies and services.
Since then, Cardiff has made significant progress in embedding children's rights into the Council's strategies and the way in which our young people are supported and nurtured.
The detailed multi-agency delivery plan aims to involve children and young people in decision making and address the barriers which limit their life chances. This supports Cardiff's ambition of being internationally recognised as one of the UK's first UNICEF UK Child Friendly City's, a global programme collaborating UNICEF with local government to put children's rights first.
To find out more about Child Friendly Cardiff, please visit www.childfriendlycardiff.co.uk
---