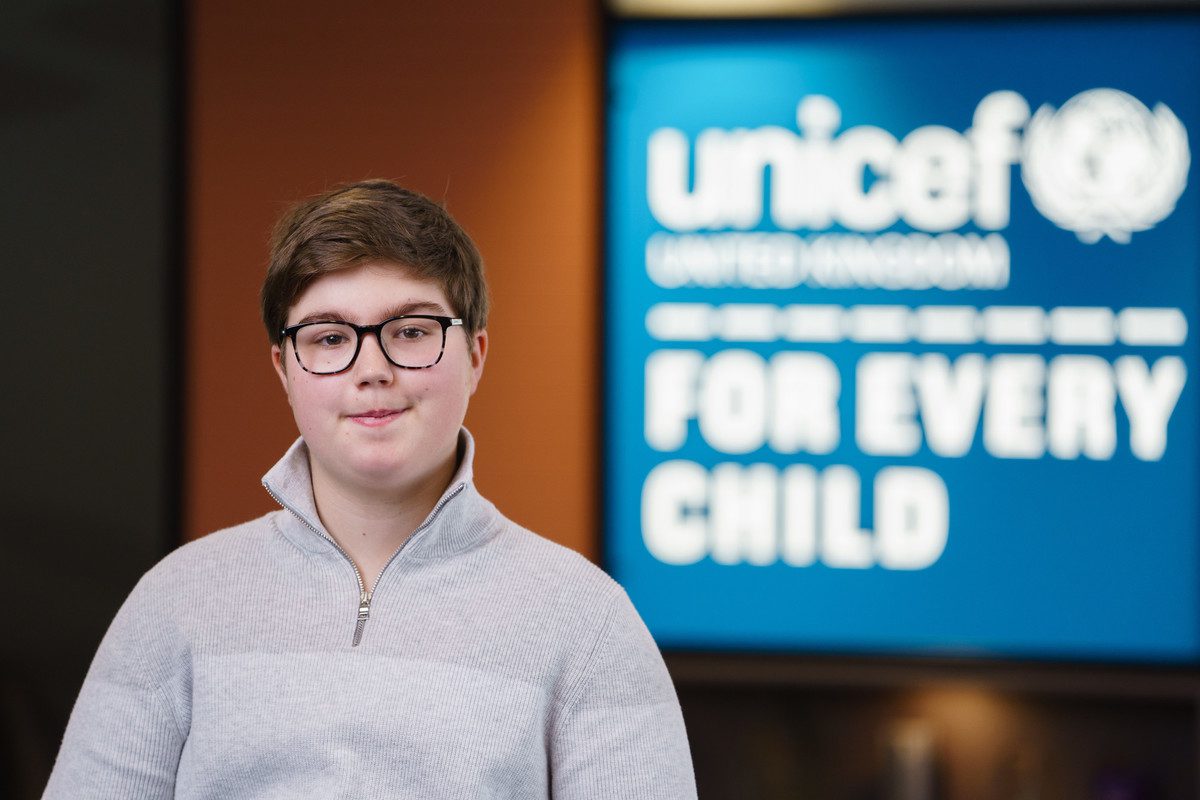 Hello, my name is Arthur, and I am one of the new members of the UNICEF UK Youth Advisory Board alongside seven other inspirational young people from all around the UK. Over the next two years, we will be working together to advocate for Children's Rights and raise awareness of the UNCRC. Young people are the future, and we must do all we can to enable the next generation to become caring, innovative, passionate leaders who want to change the world. My goal on the YAB is to inspire other young people around the UK and beyond to question why we, as a global nation, are doing what we are and to find better solutions to our problems. I want to share how I came to be in this incredible role and provide advice for any young person hoping to start their journey to changing the world. 
Since primary school, I have been interested in making improvements and bringing change within a school setting. During this time, I held three prominent roles: School Council Member, Head Buddy, and Head Digital Leader. My position on the school council involved applying for funding to improve facilities, working in the newly created mindfulness garden, and recruiting visitors to speak with the pupils. The Head Buddy role involved organising the playground, creating zones and activities, and working closely with teaching staff to combat any behavioural issues we saw arise. Head Digital Leader was a similar position that encompassed running and planning extra-curricular activities, teaching lessons, and providing parent and teacher training days. I took from these opportunities that nothing is ever perfect; there is always room for improvement. Discovering my passion at this young age propelled me into the various openings that came with high school. 
In my first year, I was elected by my peers into the school parliament, which I am still very much involved with. We planned many exciting events for the year ahead in our first few meetings, but then… lockdown hit. Now, we are beginning to start once more as year groups can meet and interact. Hopefully, we can continue some ideas from before the pandemic and learn from the experience and find new areas to work on in the coming months. I have already developed new skills by creating surveys and writing letters, with many more on the horizon. 
About a month after I became a member of the school parliament, I found out about Cardiff Youth Council – the democratic voice for young people in Cardiff. I was invited to an induction day where I learnt of the fantastic changes that CYC has brought and signed up on the spot. My first general meeting was in December 2019. It would be fair to say that I was extremely shy (apart from when the film round of the Christmas quiz began). I joined the Mental Health and Wellbeing Subgroup, where we continued to develop Mindhub, a website that allows young people to find help with their mental health in just three clicks. Over the next three months, I continued to blend into the background, too nervous to speak. However, I retained what was said and learned more about CYC. But then… lockdown hit. As school moved online, so did CYC, with meetings taking place through Microsoft Teams. For me, this was a blessing. I suddenly felt much more confident and able to contribute. I began to sign up more and more, apply for every position that came up and became more of a presence within CYC. 
During my phase of joining everything, I became a member of the Child Friendly Cardiff's Children and Young People's Advisory Board. Cardiff is on the way to becoming the UK first Child Friendly City recognised by UNICEF. It is through this group that my approach to change became intrinsically linked with children's rights. CYPAB is centred around Article 12 of the UNCRC: respect for the views of every child. The first major project that I was involved with was the Summer of Smiles. To help bring young people out of the pandemic, Child Friendly Cardiff, in conjunction with various organisations around the city, put on all different events for children and young people to enjoy during the summer holidays. The CYPAB members were given the opportunity to volunteer on the main festival site. This involved posting on social media, taking photos, speaking to families, and running a stall. We are currently preparing for the Winter of Wellbeing, which I am sure will also prove a success. 
Last October, I turned 14, which opened up many new doors for me. I am now a member of the National Museum Wales Youth Forum and am preparing to participate in the Duke of Edinburgh's Award. This is, of course, in addition to being selected for the UNICEF UK YAB. I was sent this opportunity through CYC but could not apply immediately. 14 was the minimum age, but luckily for me, the closing date was two weeks after my birthday. As soon as I could, I sent in my application which outlined my experiences, the skills I had gained and explored my passion for change and children's rights. I was invited for an interview with the Youth Engagement Team as well as a member of the 2019-2021 YAB. Throughout the interview, I tried to stay calm and answer the questions to the best of my ability. To my delight, I was offered a place and before I knew it, was heading off to the first meeting in London, where I had the pleasure of meeting the out-going YAB, the team at UNICEF, as well as the group I will be working with over the next two years. 
If you want to start a journey similar to mine, I have some advice for you. To begin, experience is key. Taking advantage of opportunities will provide you with skills that are transferrable to all sorts of projects. For example, in CYC, I have applied to be the chair, vice-chair, and chair of the reformation group. As of right now, I have not succeeded in acquiring any of these positions, but the process has made me better known within CYC, provided an insight into the procedures. My second piece of advice would be that you are never too young or old to try something new. When I joined CYC, I was the youngest member (by quite a lot), but by getting my foot in the door early, I have been able to become more involved in recent months. In school, I am the oldest member of the KS3 choir; however, singing is something I enjoy, and just because there are only two year 9s doesn't mean I'm going to give it up. Lastly, be yourself. Trust me, your ideas are unique, innovative, and have potential. Only when you stop worrying about what people think of you, can they see who you really are: your hobbies, passions, motivations. This advice is taken from a lifetime of experience. Take the chances whilst you can, and maybe, just maybe, you can change the world. 
---